A basic flower cane is a bullseye cane for the center, and another bullseye cane (cut four or five or more lengths) for petals. As with any bullseye cane, it can be as simple or as complicated as you want. Let's go for simple this time, okay?
Start with the flower center. I'm using yellow wrapped with orange:
For the petals--a little more fancy...two (count 'em, TWO) colors of purple: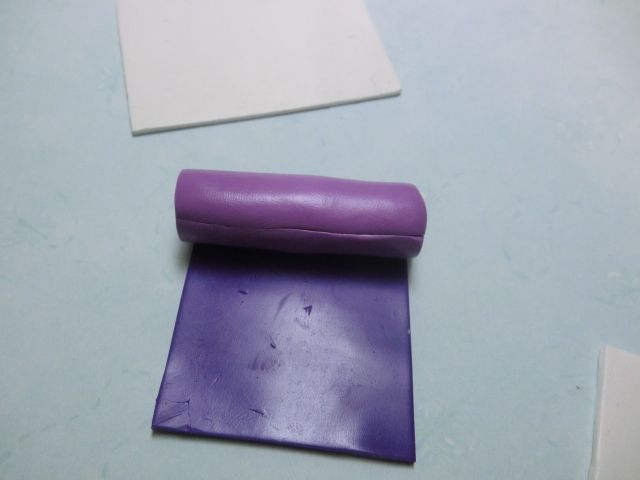 Reduce to a little bit smaller than the center cane (this can vary, depending on how many petals you want...smaller for more, larger for less); cut the number of petals you want, the same length as the flower center: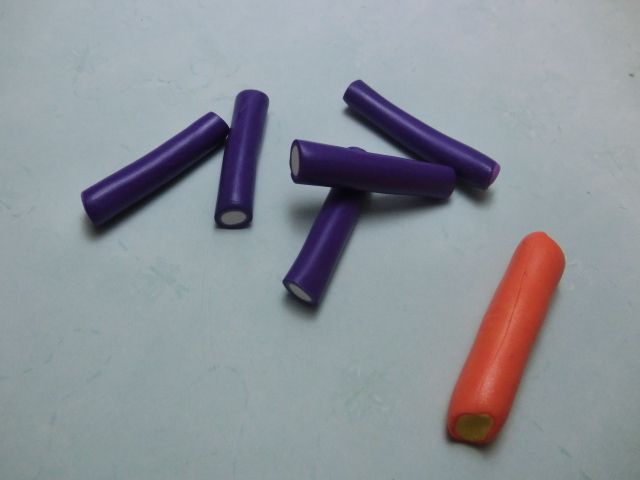 Place the five (more? less?) petal pieces around the center cane and lightly compress. There are two options at this point. You can have a flower without packing. It's a little tricky to reduce...a matter of pulling the cane rather than compressing and rolling. Or you can pack the cane with a background color and roll it to reduce.
To pack the cane, form small background triangles to put between each petal:
Then wrap a sheet of background color around the result:
Reduce as desired (and wrap with another color if you like). Ta-da! A flower cane!