Clay Camp is at
Camp Huston
in Gold Bar, Washington. It's a beautiful place in the middle of nowhere (sorry, Gold Bar, but it
is
). People start arriving Friday night after 4:00 pm and the final camper leaves somewhere around 2:00 p.m. on Monday. 'Tis glorious!
I got off work and headed up there...I had to stop at
Ben Franklin
in Monroe, of course. But I finally made it to a happy weekend of claying. Usually, I get unpacked and then catch up with people I haven't seen since
last
Clay Camp. Then I get busy. Only this year, I did
not
get busy. I didn't do much at all. And then I went to bed early! Before midnight!! Oy!
A couple of years ago everyone made buttons to swap, last year it was beads. This year, we were supposed to make name badges and everyone voted in several categories (favorite, best representative of the person, most elegant, most funky, etc.). I managed to snap this photo of one of Shannon's badges (she made two--the over-achiever! Just kidding--you know I love ya, Shannon):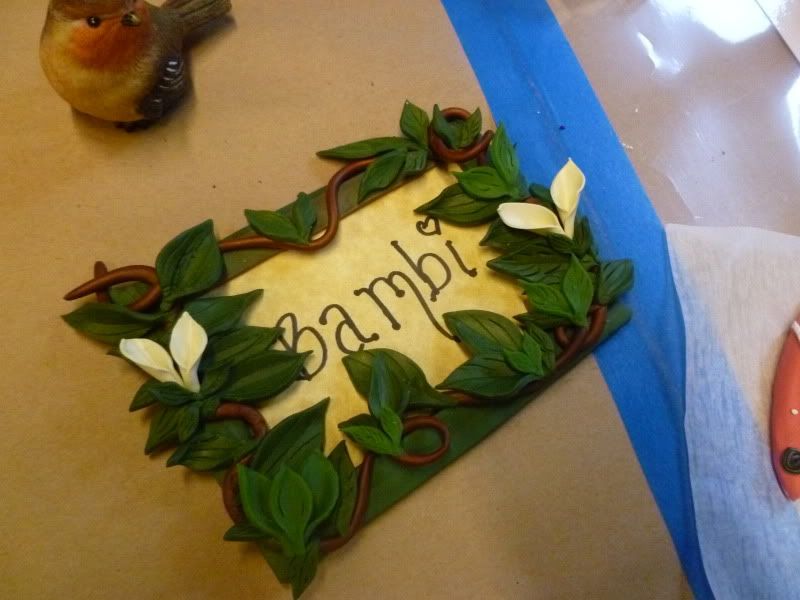 I'm pretty sure I was told the reason for the name "Bambi", but like so much else these days, I forget....